---
Meeting Leroy Kelly in Miamisburg Ohio
---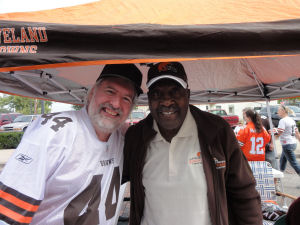 It's been forty-one years since I went to the downtown Lazarus store in Columbus Ohio to get Leroy Kelly's autograph. It was 1970 and I was twelve years old. When I heard that the Browns Backers of Dayton and Miamisburg Ohio had invited Leroy Kelly to sign autographs in Miamisburg on September 18, 2011, I drove down to see him again. He signed all his original football cards, some photos, and a carry bag for me. Mr. Kelly could not have been nicer as he graciously took pictures with myself and the other Browns fans who attended this event.
An unexpected bonus was the appearance of Ernie Green who I got to talk with at some length. He said Vince Lombardi was great friends with Paul Brown and traded him to the Browns after the death of Ernie Davis. While riding on the Packers team bus Ernie overheard Lombardi telling his assistant coach and eventual replacement Phil Bengston that it was a shame that Davis would never play football again. This was a shock to Green because the word from the Browns camp was that Davis had mononucleosis when in fact he was dying from leukemia. I asked him about playing against Ray Nitschke and Dick Butkus. He stated that they were as tough as their reputations made them out to be. He said he thought Butkus had killed Browns' running back Ron Johnson on one tackle. I also asked him if he felt the Browns team was intimidated by the very powerful Baltimore Colts going into the 1964 Championship game. He said they had been apprehensive but after playing the Colts to a scoreless tie in the first half they knew they could beat them. Ernie also confirmed that the car in the background of the Browns' 1964 Philadelphia football cards was indeed Jim Brown's Cadillac.
Thanks to the Greater Dayton Browns Backers, the Miamisburg Browns Backers, and Ron's Pizza for sponsoring this great event. It was well worth the two hour drive and couldn't have been more perfect.
---
Miamisburg Leroy Kelly Photo Gallery
---







Browns Backers set up autograph venue outside
of Ron's Pizza in downtown Miamsburg





Browns running back Ernie Green shows up first








Ernie Green and Leroy Kelly together again





Leroy Kelly signing photos and a carry bag for me
(see items below)






Leroy Kelly signing his rookie card for me with
Ernie Green looking over his shoulder
(see cards below)





Leroy Kelly let me take a picture of
his Hall of Fame ring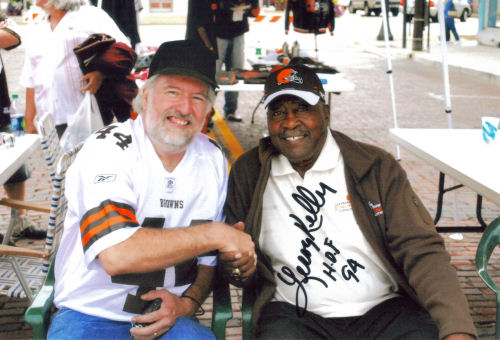 Shaking hands with Leroy Kelly
---
Items Leroy Kelly autographed for me
---
| | |
| --- | --- |
| Leroy Kelly Rookie 1967 card with his autograph | Leroy Kelly 1968 card with his autograph |
| Leroy Kelly 1969 card with his autograph | Leroy Kelly 1970 card with his autograph |
| Leroy Kelly 1971 card with his autograph | Leroy Kelly 1972 card with his autograph |
| Leroy Kelly 1973 card with his autograph | Leroy Kelly 1974 card with his autograph |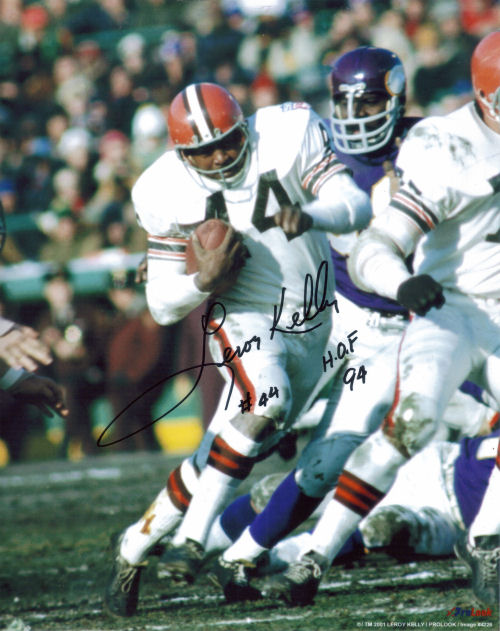 Autographed Photo of Leroy Kelly running against the Vikings
and their Purple People Eaters defense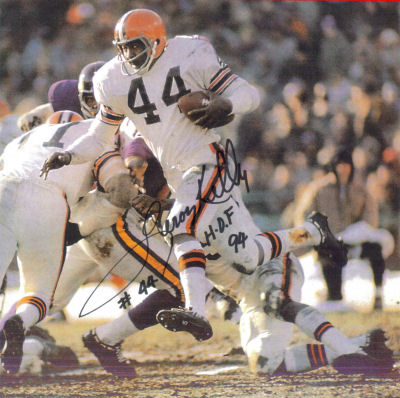 Autographed Photo of Leroy Kelly running with
the help of a block by Dick Schafrath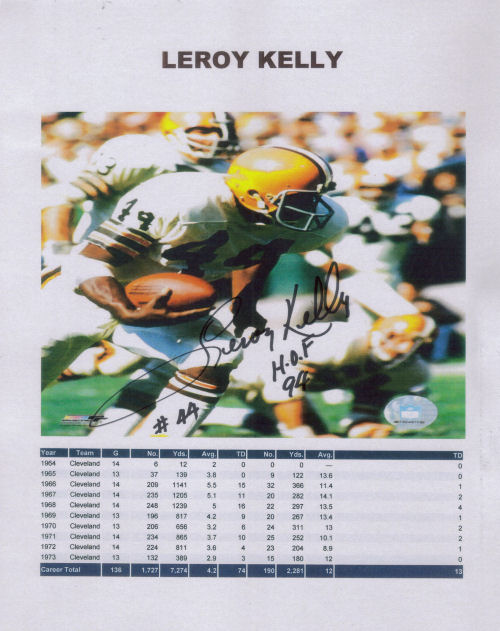 Autographed Photo of Leroy Kelly with his career stats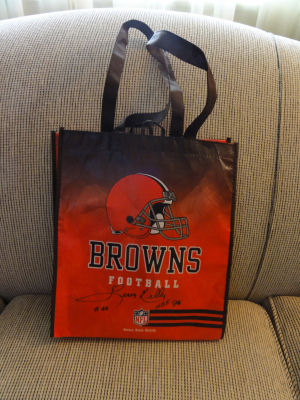 Leroy Kelly Autographed Carry Bag

tr>
---
---