---
My Collection of Leroy Kelly Memorabilia
---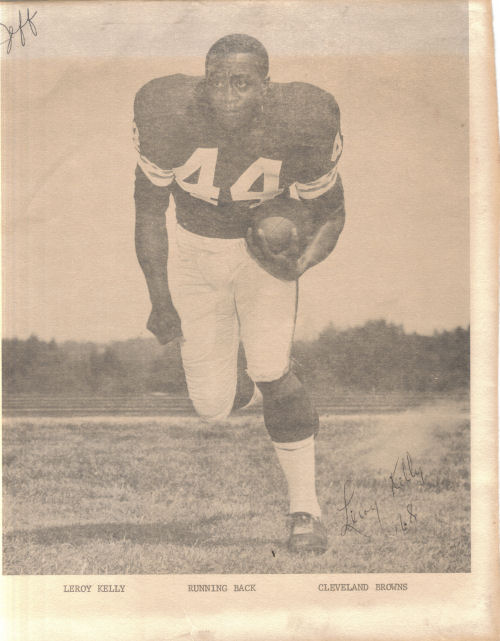 In 1968 when I was 10 years old I wrote to the Cleveland Browns and asked for an autographed photo of Leroy Kelly. I received this photo from the Browns organization in the mail
---
| | |
| --- | --- |
| | In 1970 when I was 12 years old Leroy Kelly came to the downtown Lazarus store in Columbus, Ohio. My dad drove me down to meet him and get him to autograph this photo and card. |
---
| | |
| --- | --- |
| Old Cleveland Browns Pennant | |
---
| | |
| --- | --- |
| | 1968 Topps Leroy Kelly Poster came in a pack of football cards |
---
| | |
| --- | --- |
| This is a 1971 disc from Mattel's Instant Replay Set. You had to have the Mattel handheld disc player to hear a play from Leroy Kelly's career | |
---
| | |
| --- | --- |
| | This is the Leroy Kelly card from the Hero Deck Parody Playing Cards |
---
| | |
| --- | --- |
| In 1972 the Sun Oil Company issued a set of 624 stamps of NFL players. Each team had 12 offensive player stamps and 12 defensive player stamps. They also issued wallets and albums to paste the stamps in. When you filled up your tank at a Sunoco gas station you would receive some stamps. | |
---
| | |
| --- | --- |
| | From 1964 to 1966 the Coca Cola company sold bottles of Coke, Sprite, and other drinks with pictures of NFL players inside the bottle caps. Our family primarily drank Coke and I remember having several caps with Cleveland Browns players on them. This is a 1966 Coke bottle cap with Leroy Kelly's photo on it. |
---
In the early 1970s the convenience store chain 7-Eleven sold Slurpee cups with NFL players on them with information about the player. Leroy Kelly's info says:

Running Back - Height 6-0. Weight 205. Age 30. Years Pro 9. School Morgan State. Leroy, whose brother Pat plays for the Chicago White Sox, joined Cleveland in 1964. The versatile Kelly has averaged better than 4.5 yards per carry during his years as a professional and also excelled in pass receiving, punt returns, and kickoff returns.
---
| | |
| --- | --- |
| | An Induction Ceremony pin from Leroy Kelly's enshrinement in the Hall of Fame on July 30, 1994 |
---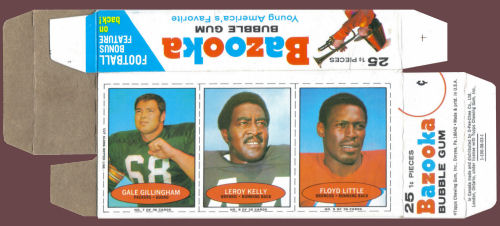 In 1971 the Topps Chewing Gum company issued NFL players cards on the backs of boxes of bazooka gum. Each box contained 25 pieces of 1-cent gum and a panel of three players. There were twelve panels in all. Leroy Kelly's card was number 8 of 36. I collected these cards in 1971 which of course was before collecting sports cards became a national and profitable phenomenon. I cut the cards on the back of the box into three cards. Now you want cards to be in their original condition.
---
| | |
| --- | --- |
| In the early 1970s the American Toy and Furniture Company (ATF) in conjunction with the NFL Players Association produced woodburning kits called "Great Stars of the NFL". You could burn 4x4 inch wood plaques of Dick Butkus, Terry Bradshaw, Ron Johnson and others. Here is Leroy Kelly's 1971 completed wood-burned plaque. | |
---
| | |
| --- | --- |
| | Leroy Kelly 1971 Dell Magazine football stamp - The 1971-72 Dell Magazine Pro Football Guide offered a foldout that had 48 NFL player stamps including Leroy Kelly |
---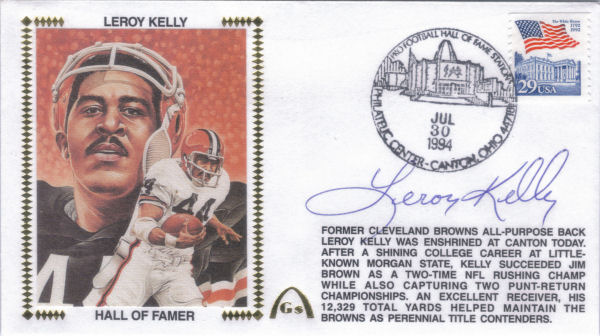 Leroy Kelly Hall of Fame Signed Gateway Cachet July 30, 1994 - A cachet is an envelope or letter with artwork or designs printed on it to commemorate a notable occasion. The Gateway Stamp Company of Florissant, Missouri, produces collectible envelopes that appeal to both stamp and sports memorabilia collectors. When a special event occurs Gateway sends its personnel with the appropriately designed envelopes to the location where the event will take place. Then to make the cachet an official First-Day cover they have the envelope stamped and postmarked at the location before midnight on the day of the event. The Gateway Cachet above commemorates Leroy Kelly's induction into the Hall of Fame in Canton Ohio on July 30, 1994.
---
| | |
| --- | --- |
| | Leroy Kelly 1969 Glendale football stamp - In 1969 Glendale Publishers issued a series of football stamps including Leroy Kelly to be placed in an album. |
---
| | |
| --- | --- |
| | Leroy Kelly End Plate for the 1971 NFLPA Footlocker/Toy Chest - The lid had photos of Dick Butkus, Roy Jefferson, Lance Alworth, Willie Lanier, Alan Page, and Daryle Lamonica on it. One end of the locker had Terry Bradshaw's photo and the other end had Leroy Kelly on it. |
---
| | |
| --- | --- |
| This is a 1970 Leroy Kelly Topps Super Test card. This card had square corners and was made on thin stock cardboard. The final Topps Super card had rounded corners, was thicker than the test card, and had the player's statistics on the back. | |
---
| | |
| --- | --- |
| | In 1998 former San Diego Charger offensive tackle and Hall of Famer Ron Mix created a 116-card set of large-sized cards featuring Hall of Fame players. There were 2,500 of these sets produced with each player signing their individual cards. The sale of these cards was to benefit retired Hall of Fame players. The 116-card sets were originally priced between $1,650 and $6,000 (for the first set produced). The artwork on the Leroy Kelly card was created by Merv Corning. |
---
| | |
| --- | --- |
| Leroy Kelly 2011 ZeeNut Stamp Relic - This is a Leroy Kelly card based on the early-20th Century cards issued by the Collins-McCarthy Candy Company of San Francisco | |
---
| | |
| --- | --- |
| | This is a Leroy Kelly Pin Button/Badge which uses the image from the Hero Deck Parody Playing Cards seen above |
---
| | |
| --- | --- |
| In 1969 Topps issued a Mini-card Album with their packs of football cards. Each team album had a printed picture of ten players from that team. The front cover had the team name while the back cover had the team mascot or logo printed on it. Topps also inserted "four-in-one" cards in their football card packs. These insert cards had four miniature cards of players from different teams with perforated lines dividing the four cards. You would divide up the cards and wet the backs of them and place them on the matching player's picture in the album. Beside the card was the individual player's statistics. Including the cover there were four pages. The middle pages contained the team's two best star players which in the Browns case was Leroy Kelly and their quarterack Bill Nelsen. In the Browns album some of the mini-cards were the same photos as the ones used in their 1969 Topps regular cards while the rest used different photos. I do remember a sense of accomplishment when I finally got all ten Browns mini-cards and filled the album. | |
---
---