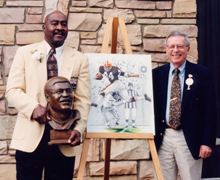 Chuck Heaton Cleveland Plain Dealer (presenter):
Thank you. All you folks are probably wondering what a beat up sports writer is doing here making a presentation at the Hall of Fame. But if during your career in writing, you are kind to players and be objective in your writing, sometimes they like you. And that happened to me and I was very happy when Leroy Kelly asked me to be his presenter at the Pro Football Hall of Fame. Sid Hartman felt the same about Bud Grant. I told Leroy, so for the first time a person selected to the Hall had named a member of the selection committee for such a task.
I also told Leroy that such a person was really not needed in this case because all you people out there knew what he had done for pro football either in the seats in Cleveland Stadium or on your television sets. There were 90 touchdowns. You witnessed his 1,000-yard seasons, his five Pro Bowl appearances. You watched those dazzling runs; you saw those 174 yards against the San Francisco 49ers in 1968. All this might not have happened if Leroy didn't have the strong support of the late Buddy Young. He was a scout for the Baltimore Colts who didn't need any backs, but Buddy called Art Modell and persuaded him to take Leroy in the 8th round in the draft in 1964 even though they had the great Jim Brown. Kelly had his organized sports start in Simon Gratz High School in Philadelphia and before that time he was in the sand lots all the time for all sports. He was a kickoff man, a punter, the kick return man, the middle linebacker and the quarterback at Simon Gratz. Upon graduation from high school he won three letters in football and baseball, was the district's selection as all-city quarterback and shortstop. He was only 6-foot tall and weighed just 180 lbs. at that time so he took a one half scholarship and a job that was offered by Morgan State. Morgan State football coach Earl Banks immediately shifted him from quarterback to running back and he continued to also play defensive back. He wound up as co-captain on the Morgan State team and won most valuable player honors in the Orange Bowl Classic.
The Browns weren't looking for a back but Young called and Kelly was still available so Art Modell took him. Young told Modell Kelly had the same moves as Jim Brown which proved so true. Kelly was a real bargain for the Browns by today's financial standards. He signed for $17,000 that included his signing bonus. He made that 1964 championship team as a special teams player. He started only one game in the same backfield as Jim Brown, but he watched and was ready when Jim Brown retired in 1966. The Browns were somewhat shocked when Jim Brown decided on a film career in the summer of 1966, but not Doug Jones the fine defensive coach. We have Leroy Kelly and we will do just fine said Doug.
Kelly responded, 1,141 yards rushing that season, averaged 7.4 yards and 16 touchdowns. Kelly is the 13th Brown to stand up here and be accepted into the Hall of Fame. A running back, he has suitable companions Jim Brown and Marion Motley. It is indeed a great pleasure to present my good friend over the years, Leroy Kelly for the Pro Football Hall of Fame.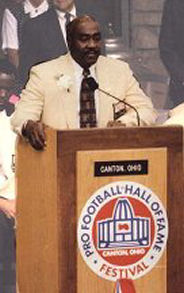 Leroy Kelly:
You know there are some people you meet for the first time and you just like them from the start and that was Chuck Heaton. I respect Chuck as a person first and then as a writer and as a human being, that's why I asked him to be my presenter. Thank you very much Chuck.
You know I know my family is very proud of me but I would like to take this opportunity to let them know how proud I am of them. I have three brothers and I have three sisters. My oldest brother Samson Kelly, my brother Ulysses Kelly, my sister Dorothy Allen, my sister Elizabeth Allen, my sister May Kelly. I have a younger brother who played 13 years in Major League Baseball whom I am very proud of. He has his own ministry and this last month he was down at a seminar with Billy Graham to learn more on how to spread the word of God around this world, that's my brother Harold Patrick Kelly. It just happens today is his birthday. I just want to wish him a happy birthday.
There's so many people that have been instrumental in the success of Leroy Kelly starting with my high school coach Mr. Lou Devicaris who eventually became the principal of Martin Luther King High School in Philadelphia. If it wasn't for Mr. D I don't think I would have went to college. Colleges (weren't) knocking down my door when I graduated from high school. Mr. D went the second mile for me. He wrote several colleges and obtained a partial scholarship to Morgan State College in Baltimore, Maryland. When I got down there another coach by the name of Earl Banks was there. He didn't take him long to get a team together and by my junior year we became CIAA champs. Earl Banks is not here with us today, but I know he'd be very proud of the job he did with me in college.
After I left Morgan, I was drafted by the Cleveland Browns as an 8th round draft choice. When I got to Cleveland I met another coach by the name of Blanton Collier who took over from there. They had a mini camp and I didn't know if the Browns wanted to use me as an offensive back or defensive back because I played both ways in college. We had a mini camp in May my first year and after the mini camp, Blant said I want you to go home and put on a few pounds because I want to use you as a running back. So I went home and gained about 10 pounds. When I got to camp in July an unfortunate thing happened to me. The third day in camp I think it was that Thursday, I pulled a hamstring. And two people who were instrumental in helping me was our trainer Leo Murphy and Jim Brown. Jim Brown persuaded Blanton Collier to let me rest my pulled hamstring, which is not very normal for a rookie. So I rested my pulled hamstring for about two weeks and with expert trainer, Leo Murphy, my leg got very well. I could say the rest is history, but I am not at the end my speech right here.
So many people like teammates in high school, in college, professional that is the reason why I am here today. I'm not going to start naming them because I would be up here all day. But I just want to tell them, I want them to share this honor with me. It is a great honor and it has made me very happy and very proud to be one of the 1994 inductees into the National Football League Pro Hall of Fame.
I want to thank all my coaches all my high school coaches, starting with my JV coach Mr. Kean, Mr. Lou Devicaris, Mr. Bauder. A lot of my college coaches are not here today, Earl Banks, Brutis Wilson, Kim Brown, and all my professional coaches, Blanton Collier, Doug Jones, Fritz Heisler, Eddie Ulinski, Al Tabor, Nick Skorich, David Crow, thank you. Last but not least, Art Modell, I want to thank you for always running a first class organization. The Cleveland Browns organization. I want to thank all the loyal Cleveland Browns fans. And to my right are not the bleachers, but I want to thank the "Dawg" Pound.
Thank you very much.
July 30, 1994