Marion Motley
In the Cleveland Browns first year of existence they started a tradition of acquiring great running backs. Marion Motley had played football for Paul Brown when he was in the Navy at the Great Lakes Naval Station during WWII. When Brown formed the Cleveland Browns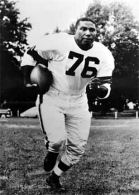 in 1946 he signed the 6-1, 232 lb. fullback to a contract to play in the newly-created All-America Football Conference (AAFC). Motley became the all-time rushing leader during the AAFC's four-year existence and helped the Browns to win every championship game from 1946-49. His rushing totals for his AAFC career were 3024 yards gained in 489 attempts for an average of 6.2 yds. per carry while scoring 26 touchdowns. He also caught 45 passes for 644 yards for an average of 14.3 yds. per catch and scored 4 touchdowns. When the Browns joined the NFL in 1950 Motley helped the team to win the championship in their first year. During that season in a game against the Pittsburgh Steelers he rushed for 188 yards in 11 attempts for an incredible average of 17.1 yds. per carry. This is still a record among NFL running backs. He went on to lead the NFL in total rushing yards that year with 810 yards in 140 attempts for a 5.8 yds. per carry average. Motley retired after the 1953 season because of injuries. He attempted a minor comeback with the Pittsburgh Steelers in 1955 but retired permanently after a few games. His rushing totals for his entire career are 4720 yards in 828 attempts for an average of 5.6 yds. per carry and 31 touchdowns. Marion Motley was inducted into the Hall of Fame in 1968.

Jim Brown
In 1934, fourteen years after the creation of the NFL, Beattie Feathers, a running back for the Chicago Bears, rushed for 1004 yards in 119 attempts. He became the first running back to rush for more than 1000 yards in a season. It wouldn't happen again until thirteen years later when Philadelphia Eagles running back Steve Van Buren rushed for 1008 yards in 1947. Van Buren did it again in 1949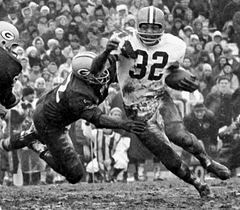 with 1146 yards as did Green Bay Packer Tony Canadeo with 1052 yards. San Francisco 49ers running back Joe Perry rushed for 1018 yards in 1953 and 1049 yards in 1954. In 1956 Rick Casares of the Chicago Bears rushed for 1126 yards. From 1920 until 1958 a total of five players rushed for more than 1000 yards in any single season of the NFL. In 1957 the Cleveland Browns drafted a fullback from Syracuse University who would rush for more than 1000 yards seven times over the next nine years (He actually rushed for over 1000 yards in 1962 even though he was injured but was thrown for a loss at the end of the last game which put him back under the 1000 yard mark). The NFL had never seen a running back like Jim Brown in its history. He led the league in rushing eight of his nine years in the NFL and ran for 100 yards or more in 58 of the 118 games he played. He is the only NFL player to average more than 100 yards rushing (104.3) per game for a career. His 5.2 yards per carry is the highest average for any running back in NFL history. He led the Browns to their last NFL championship in 1964. Jim Brown was inducted into the Hall of Fame in 1971 and is unquestionably the greatest running back ever and maybe the greatest football player in the ninety year history of the NFL.

Leroy Kelly
In 1964 the Cleveland Browns drafted the greatest halfback in their history although they didn't know it at the time. Because of Jim Brown, Leroy Kelly was relegated to the special teams where he averaged an amazing 19 yards per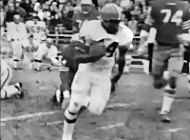 punt return in their 1964 championship season. The next year he led the NFL with a 15.6 yard average per punt return. With Jim Brown's unexpected retirement after the 1965 season Leroy Kelly became the Browns' featured running back. He became only the third player in NFL history to run for more than 1000 yards in three different seasons (1966-68). In 1968 he led the NFL in scoring with twenty touchdowns and 120 points. In 1971, along with rushing for 865 yards, he led the AFC in punt return average with 9.7 yards per return and had the longest punt return (74 yds.) in the NFL that year. He retired after the 1973 season from the NFL (He played one last season in the WFL in 1974). Leroy Kelly was the fourth-ranked all-time leading rusher when he retired with 7,272 yards. He had 12,329 combined yards and scored 90 touchdowns during his ten years in the NFL. He was inducted into the Hall of Fame in 1994. In 2010 his name was placed on the "Ring of Honor" in Cleveland Browns Stadium. When he joined the team in 1964 Kelly inherited Defensive Halfback Jim Shofner's (1958-1963) jersey number 44. I believe the Browns should give Leroy Kelly one last honor by retiring this number from the Browns' roster.

Greg Pruitt
In 1973 as the door was closing on Leroy Kelly's career it was opening for the Browns' next great running back. Greg Pruitt's rookie year was balanced between rushing for 369 yards, returning punts for 180 yards and an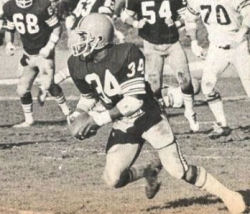 average of 11.3 yards per return, and returning kickoffs 453 yards with an average of 28.3 yards per return. In 1974 Pruitt kept his role as an all-purpose back rushing for 540 yards, catching 21 passes for 274 yards, returning punts for 349 yards and a 12.9 yd. average, and returning kickoffs for 606 yards and 21.6 yd. average. Beginning in 1975 he became the primary running back for the Browns. That year he rushed for 1067 yards and 8 touchdowns. In 1976 he ran for 1000 yards and 1977 he rushed for 1086 yards. His career seemed to parallel Leroy Kelly's as both started out as special teams stars and then when given the chance rushed for 1000 yards or more three straight years. He was known for wearing tear-away jerseys yet his running ability was unquestioned whether returning kicks, rushing the ball, or catching passes. In his career he rushed for 5672 yards, caught passes for 3069 yards, returned punts for 2007 yards, and returned kickoffs for 2514 yards for a total of 13,262 combined yards in a 12 year NFL career. Greg Pruitt nobly carried on the Cleveland Browns tradition of great running backs.

Mike Pruitt
In 1976 the Browns drafted their first fullback since Jim Brown who would break the 1000 yard mark in rushing. Not only did Mike Pruitt break the 1000 yard mark, he did it in four different seasons during his nine year career with the Browns. Only Jim Brown had more 1000 yard seasons as a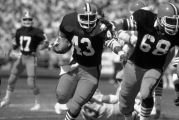 Cleveland Brown. He was chosen for the Pro Bowl in 1979 and 1980. In 1980, Pruitt along with quarterback Brian Sipe were key components in leading the famed Kardiac Kids to the playoffs. He finished his playing days with the Browns after the 1984 season. His career totals for the Browns were 6540 yards and 47 touchdowns and caught 255 passes for 1,761 yards and 5 touchdowns. He was the third all-time Browns rusher behind Jim Brown and Leroy Kelly. After he left the Browns Pruitt played one year with both the Buffalo Bills and the Kansas City Chiefs and his final year with the Chiefs. His overall totals for the NFL were 7,378 yards rushings, 270 passes caught for 1,860 yards, and 56 Touchdowns.

Kevin Mack
The Browns used their first round pick in the 1984 Supplemental Draft to acquire their last great running back. In 1985 6-0, 224 lbs. fullback Kevin Mack rushed for 1,104 yards and made the Pro-Bowl in his rookie season. In that same year the
Browns' halfback Earnest Byner also rushed for 1000 yards. They became the third NFL running back tandem to rush for 1000 yards in the same season. The next year Mack rushed for 665 yards and helped the Browns get to the 1986 AFC Championship game. In 1987 he rushed for 735 yards, made the Pro-Bowl, and once again helped the Browns to the AFC championship game. In 1989 he gained 36 yards in the last championship game the Browns ever played in. Kevin Mack played nine seasons for the Browns and rushed for 5,123 yards, caught 197 passes for 1,602 yards, and scored 54 touchdowns.

---
Ernie Davis: A tragic story
In the 1962 NFL draft the Washington Redskins picked Ernie Davis with the number one choice overall. However Cleveland Browns head coach Paul Brown had already arranged to trade future Hall of Famer Bobby Mitchell and a first-round draft pick to the Redskins to acquire Davis. An extremely high price to pay for any college athlete. However, Coach Brown had a very good reason for wanting Davis so badly. He had witnessed the record-setting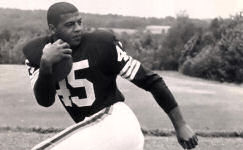 running ability of his 1957 draft pick Jim Brown for the last five years. Now he had an opportunity to acquire the running back who broke most of Jim Brown's records at Syracuse University. If the Heisman Trophy winning Davis was as good or better than Jim Brown had been in the NFL then the Browns would dominate the league for the next several years. They could have become the greatest dynasty the NFL would ever see. The dream ended on July 30, 1962 when a Browns trainer sent Davis to the hospital because of swelling in his neck. He was diagnosed with leukemia. Ernie Davis never played a down for the Cleveland Browns. Before a preseason game against the Pittsburgh Steelers on August 18, 1962 Ernie Davis made his first public appearance in Cleveland Municipal Stadium. 78,000 Browns fans went wild when the stadium announcer said, "Here is another member of the Browns' offensive team, No. 45, Ernie Davis". They gave him a five minute standing ovation. Nine months later to the day on May 18, 1963 Ernie Davis died at the age of 23. The Cleveland Browns retired his jersey number 45 on "Ernie Davis Day" in the fall of 1963.

---
The next great Browns running back?
Apart from the great running backs listed above the Cleveland Browns have had other good running backs in their sixty-four year history. They include Dub Jones (1948-55), Bobby Mitchell (1958-61), Ernie Green (1962-68), Bo Scott (1969-74), Earnest Byner (1984-88, 1994-95), Eric Metcalf (1989-94), and Jamal Lewis (2007-09). On December 20, 2009 in a game against the Kansas City Chiefs, Browns running back Jerome Harrison rushed for 286 yards. This was the third highest total yards gained in an NFL game ever. Harrison broke Jim Brown's team record of 237 yards which he accomplished in a game in 1957 and again in 1961. In 2010 the Browns acquired Peyton Hillis from the Denver Broncos. He ran for more than 1,100 yards that year and became the first Browns running back to score double digit touchdowns (11) since Leroy Kelly. Who will be the next Jim Brown or Leroy Kelly to play for the Cleveland Browns and carry on the their tradition of great running backs? Browns fans are hopefully going to find out soon.