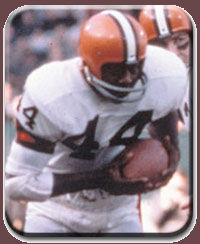 When I was growing up in the early 1960s my dad would watch the Cleveland Browns games on TV and my older brother collected football cards. I remember seeing his Browns cards and particularly his Jimmy Brown cards. I loved the orange and brown uniform colors of the Browns players. However, it wasn't until 1968 that I started following the Browns. Leroy Kelly had an amazing year in 1968 and he immediately became my favorite sports athlete of all-time and remains so to this day. In 1970 I got to meet him and get his autograph at a Lazarus store in downtown Columbus, Ohio.
It seemed to me that Leroy Kelly never received the acclaim due him. I think part of the problem was that he followed in the footsteps of the greatest running back of all-time, Jim Brown. He also was only on one championship team and that as a special teams player in his rookie year. I think it is a travesty that his contemporary, Gale Sayers of the Chicago Bears, was inducted into the Hall of Fame in 1977 while it took until 1994 for Leroy Kelly to be elected. Mr. Sayers never played in a championship game, he rushed for a career total of 4,956 yds (Kelly rushed for 7274 yds), had a combined yardage total of 9044 (Kelly had 12,329 yds), and scored 54 touchdowns (Kelly scored 90 touchdowns). Gale Sayers was an exciting runner but so was Leroy Kelly. Some may say that Sayers' career was cut short by injury. True but the Browns kept Kelly on special teams for the first two years of his career instead of utilizing his running back skills. Leroy Kelly was on the All-NFL team six years, an All-Pro two years, the NFL rushing leader two years, and NFL scoring leader one year. I am still not clear why the Hall of Fame honors eluded him for so long.
I wanted to honor Leroy Kelly for the great NFL player he was and so I created this website. It is a strictly non-commercial, non-profit homage to one of the best NFL running backs to ever play the game and to my all-time favorite athlete. Thank you Leroy Kelly for the memories.